Ryushin Taido Sean Malone
Biographical Outline
(Ryu-Shin: Dragon Heart, Tai-Do: Gentle Way)

Rev. Ryushin Malone, zenji is the son of Roshin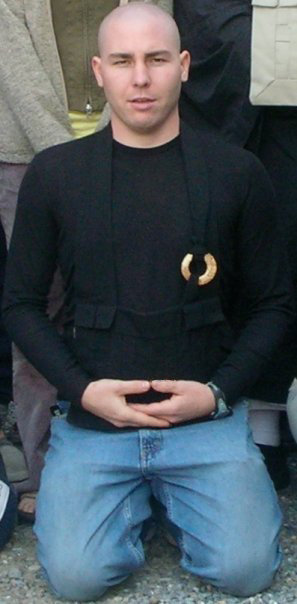 Peggy Malone and Venerable Kobutsu Malone-Osho. He was born at International Dai Bosatsu Zendo – Kongo-Ji, in Hardenberg, New York in 1980.
Ryushin received the Bodhisattva Precepts (lay ordination) from his father, Ven. Kobutsu, in 1996. Ryushin spent the summer of 1996 when he was 16 years old, in a three-month Rinzai Zen training period at Dai Bosatsu Zendo Kongo-Ji in New York State, USA.
Ryushin was trained and approved as a volunteer in Sing Sing Prison shortly after his eighteenth birthday in 1998. He assisted his father in conducting the services and sitting practice in the prison at the Prison's Dharma Song Zendo.
Ryushin graduated from Ramsey High School in Ramsey, New Jersey in 1999. Ryushin worked as an auto mechanic while attending college in 2000. In 2002 he was involved in a life altering automobile accident and decided to enter into training again. After four months of monastic training it became obvious that serious injury had occurred from his automobile accident and had been exacerbated by unnecessarially excessive monastic labor.
In 2004 he underwent two major back surgeries. A year later Ryushin was ordained as a novice Rinzai Zen monk by his father, Kobutsu-Osho, taking the Ten Precepts and accepting the responsibility for the Awakening of all beings. After three years of post-surgical recovery, he made a pilgrimage to study with Venerable Shodo Harada, Roshi at Sogen-Ji Temple in Okayama, Japan. He studied with Harada, Roshi for seven months; training as a Rinzai Zen monk. His father, Kobutsu-Osho, showed his support by re-entering training under Venerable Shodo Harada, Roshi and spent two and a half months sitting zazen beside Ryushin. In January 2007 both Kobutsu-Osho and Ryushin flew to Malaysia for a one-week Dharma teaching tour in the Kuala Lumpur area.
Ryushin returned to the USA and lived in Maine while meeting with doctors and undergoing testing due to complications from his surgeries. Rev. Ryushin Malone, has been on the Board of Directors of The Engaged Zen Foundation for eight years. Ryushin presently lives in Sedgwick, Maine. He may be reached through: ryushin@engaged-zen.org